Out of crisis
According to Olga Lundager, the owner of LUNDAGER, the popularity of green plants in general combined with the fact that many European countries are out of the crisis contributes to a higher demand for their products. "Compared to last year, the demand for our plants and Mother's Day concepts is about 20% higher. The countries we export to seem to be out of the crisis. Consumers are positive and are buying again."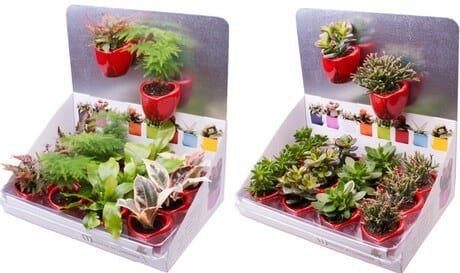 On the left: Green plants in heart-shaped magnet pots. On the right: Succulents in heart shaped pots.
Mother's Day products
Green plants seem to be hot items this Mother's Day. "We sell a lot of green plants for compositions and our new Mother's Day concepts – green plants or succulents in heart-shaped magnet pots – are doing well too." These pots are, next to their production of about 450 finished plants an important part of their business. They produce about 200 designs of ceramic pots and magnetic pots. "Every year, we try to come up with new designs that meet the taste of the different markets we serve."
Olga Lundager holding the new anthuriums at the IPM Essen 2017, in Germany.
On top of that, they are also active in developing new plant varieties. In cooperation with several breeders, they developed a new mini Anthurium and introduced it in 2016. "In Europe, we now have the exclusive rights to produce this plant in pot sizes 6 and 7 cm," says Lundager. Later that year, they added four new colors in pot size of 6 cm and these seem to be well in demand for Mother's Day too.
Mother's Day celebrations spread out
LUNDAGER starts shipping out their products about two weeks in advance of the holiday. So, at the moment, they are busy shipping out the products for Mother's Day in Denmark and Germany, that will be celebrated on May 14. Then, right after, we will start shipping to Sweden and France, where they will celebrate Mother's Day on Sunday May 28. "It is quite convenient for us to have these holidays a bit spread out. In this way, we are able to take more orders and have a sufficient supply."
For more information
LUNDAGER
Olga Lundager
Email: olga@75012.dk
www.75012.dk
Publication date: 
Author: Elita Vellekoop
© FloralDaily.com